After decades of oppression and civil war, the Autonomous Administration of North and East Syria (AANES) — the regional body outside of Syrian government control — has been working to design a school system for its 800,000 primary and secondary students that celebrates diversity, counters extremism and promotes gender equality. Last month marked the beginning of a pilot project to test whether SolarSPELL might help them achieve this vision.
Together with the AANES Commission of Education, we've been developing a NE Syria library for the last two years — not only curating and tagging content, but also modifying the user interface to be more intuitive to Syrian users. The collection includes open-access resources in Arabic, Kurdish and Syriac and even features Kurdish-language Sesame Street videos created for refugee children.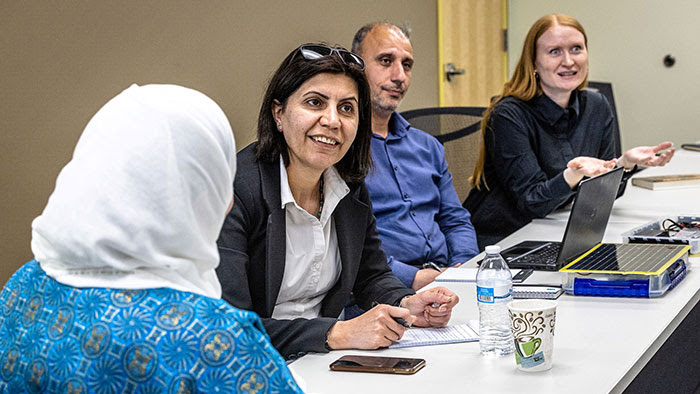 So we were delighted to finally be able to host two senior education officials from AANES, Dilber Youssef and Bahjat Mohammed Hussein, for a five-day train-the-trainer workshop. In addition to covering our standard training topics — an overview of the SolarSPELL initiative, connecting to the library, maintaining the hardware, navigating the content, teaching information literacy — we also had time for detailed discussions about implementation, monitoring and evaluation, and content updates.
Because the training took place at ASU, many of our students were able to attend and lead sessions. Libbie Farrell and Paye Kialain, for example, presented on the monitoring and evaluation tools they helped update.
Noha Labani, a PhD candidate in ASU's Department of English, led a session on the new SolarSPELL training course included in the library, which she helped create. This course will serve as a refresher for trainers and teachers. Noha also served as a translator for much of the training.
One of the many highlights of this training was our meeting with Phoenix Mayor Kate Gallego to discuss our collaboration and the role ASU SolarSPELL has to play in empowering schools in North and East Syria.
About 500 schools in the region have been damaged or destroyed by ISIS. Yet the AANES is not diplomatically recognized, making it ineligible for many forms of foreign aid. So projects like this are absolutely crucial to enable the administration to rebuild and galvanize its education system.
After meeting with Mayor Gallego, Dilber and Bahjat shared their insights with the ASU community as well, giving a guest lecture on the challenges and opportunities for education in North and East Syria.
Dilber expressed gratitude for the many students behind SolarSPELL, saying it gave her hope for the program's future seeing that it was an initiative made by students for students.
"You joined SolarSPELL because you wanted to make a difference and to have a positive impact," she said. "You are showing up and you are making a difference."
The AANES Department of Education will pilot the digital library in three schools and use our upgraded survey tools to evaluate the results. Their hope is that SolarSPELL will help them build out an education system that can serve as a model for the larger region.
Read more in ASU News: Solar-powered libraries help Syrian communities rebuild from war