Dr. Laura Hosman is an Associate Professor at Arizona State University, holding a joint appointment in the School for the Future of Innovation in Society and in The Polytechnic School. Her action-oriented work focuses on the role for new technologies in developing countries, particularly in education. Presently, she brings her passion for experiential learning to the classroom and beyond, through real-world-focused, project-based courses that bring students and student-built technology to the field for implementation.
Bruce Baikie is Senior Sustainability Fellow and Adjunct Faculty at Arizona State University. He has worked for many years as an ICT engineer in developing regions on sustainable computing, wireless broadband networks, and capacity building through partnerships and local ICT entrepreneurs. He is leveraging his extensive experience in the energy and telecom industries, 3 years as Executive Director of Inveneo, and 17 years at Sun Microsystems as telecom industry expert, and background in engineering and implementing ICT4D projects. His areas of expertise include: wireless networking, eco-data centers, micro-computing, and solar powering ICT. Bruce has mentored ASU SolarSPELL student teams since 2016 and has traveled and supported the training and implementation trips.
Heather M. Ross, PhD, DNP, ANP-BC, FAANP, is the co-director of the SolarSPELL Health initiative. She is a Clinical Associate Professor at ASU jointly appointed in the Edson College of Nursing and Health Innovation and the College of Global Futures School for the Future of Innovation in Society. She holds affiliations in the Barrett Honors College, School for Human Evolution and Social Change, and is a Global Future Scientist at ASU's Global Futures Laboratory. Her teaching and research centers on health equity and policy. From 2019-2022, she served as Special Advisor to Phoenix Mayor Kate Gallego focusing on issues related to public health and health equity. Dr. Ross maintains a clinical practice as a nurse practitioner in cardiac electrophysiology.
Sara Jordan has been in the library field since 2016, having earned her Master's degree in Library and Information Science from the University of Washington in 2021. With abundant experience in digital collections and a passion for community, she cares for SolarSPELL's library collections and strives for equitable, open access to educational information for learners around the world.
Rachel Nova's journey to SolarSPELL has been shaped by her belief that everyone deserves equitable access to education. In her 10 years of international experience, she has served as a Peace Corps Volunteer in Benin, taught English in France, and coordinated educational programs for refugee women in Arizona. With a BA in International Affairs and an MA in Learning Sciences, she is lifelong learner who champions an asset-based approach to her work.
Cassie is a returned Peace Corps Volunteer (Rwanda, 2017-2019) who taught English to youth and adult populations in her community. She utilized SolarSPELL firsthand at her school and started a SolarSPELL club that supported secondary students with improving digital literacy skills and ICT knowledge. Cassie graduated with an MA in Peace and Justice from the Kroc School of Peace Studies at the University of San Diego in 2023. She is incredibly passionate about restorative justice, educational equity and human rights and is excited to work with the amazing students that make SolarSPELL possible.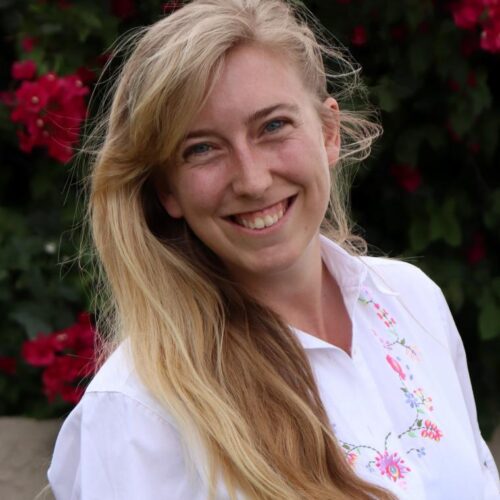 Abby Johnson brings a people-centered and data-driven approach to her role as communications specialist, informed by her experiences working in higher education, local government and international development contexts. With formal education in anthropology, journalism and sustainability, as well as field experience as an agriculture volunteer in the Peace Corps (Togo, '16-'19), she is passionate about telling stories that motivate people to become agents of change and increasing access to the information that can help them do so.
As an ASU alumnus, Jacob Shaeffer is proud to bring a Bachelor's of Science in Computer Science to the SolarSpell team. With nearly a decade of software development and systems administration experience, Jacob is passionate about SolarSpell's goal to bring accessible electronic learning to the world.
Paye Kialain is a Returned Peace Corps Volunteer (Liberia '19-'20, Education) with a passion for working with numbers, finding patterns in them, and telling the stories embedded within those patterns. His formal education is in Mechatronics Engineering, and in addition to his professional experience in Engineering and Information Technology environments, he is currently pursuing a graduate degree in Management of Technology with a concentration on Interdisciplinary Data Science. Paye's career goal is to contribute to the technological advancement of rural areas, and working with SolarSPELL allows him to do just that.
Sarina Asher, Spring 2023
Aspen Carroll, Spring 2023
Nora Khaled, Spring 2023
Brandon Le, Spring 2023
Audrey Nagle, Spring 2023
Sierra Planck, Spring 2023
Dani Prasad, Spring 2023
Kathleen Rafferty, Spring 2023
Edwin Rodriguez, Spring 2023
Janvi Siddhapura, Spring 2023
Emily Smith, Spring 2023
Melissa Tovar, Spring 2023
Sofia Zimmerman, Spring 2023
Reed Hancock, Fall 2022
Emma Wymore, Fall 2022
Helena Goldbaum, Fall 2022
Christina Sturgeon, Fall 2022
Keenan Carter, Summer 2022
Joe Nixon, Summer 2022
Allyson Huang, Summer 2022
Stanley Liu, Summer 2022
Juniper Neff, Summer 2022
Brooke Hesselfeldt, Summer 2022
Julie Lam, Summer 2022
Joshua Lubin, Summer 2022
Atharva Gupta, Summer 2022
Alie Shbur, Summer 2022
Audrey Zelinka, Summer 2022
Mary Haddad, Spring 2022
Saketh Pabolu, Spring 2022
Malin Tan, Spring 2022
Daniel Lu, Spring 2022
Michelle Zhao, Spring 2022
Sritharini Radhakrishnan, Spring 2022
Katie Halmekangas, Spring 2022
Christopher Duthie, Spring 2022
Christine Otaluka, Spring 2022
Haniyah Williams, Spring 2022
Benjamin Harvey Spencer, Spring 2022
Jenny Ayala, Learning Sciences
Cindy Bonilla-Cirocco, Museum Studies
Mariner Cheney, MBA
Libbie Farrell, GTD
Allison Hoops, GTD
Paye Kialain, Management of Technology
Noha Labani, PhD Candidate
Quinn McKissock, MLIS
Samuel Roller, Middle East Studies
Hugo Montiel, PhD Candidate
Max Rosen, MLIS
Colin Braun, MLIS
Kat Fritz, MLIS
Desiree Melvin, MGH
Ashley Mooney, DNP
Colby Howell, ERM
Yifan Zhou, MCs
Jessica Ottinger, MLIS
Soraya Andriamiarisoa, MLIS
Sharon Janis, MLIS
Ceng Cui, GIS
Mohamad Al Zein
Mosab Abu Hammad
Marwa Abdou
Hala Shaheen, GTD
Jill Egan, MLIS certificate
Siddharth Mehta, MsC
Rehab Meckawy, International Health Management
Hong-Ting Chen, User Experience
Lubna Alsaka, GTD-AID
Lyndee Anderson, DNP
Katie Andrusaitis, DNP
Amanda de Carvalho, GTD
Julie DeGregorio, DNP
Betty Dray, DNP
Stephanie Duran, MLIS
Primrose Dzenga, PhD
Juan Garcia, MLIS
Amira Jalaghi, DNP
Sue Ann Lau, MLIS
Grace Li, DNP
Kate Macias, DNP
Osamah Naji, GTD
Ashlyn Nam, DNP

Heidi Nechy,

Nursing Education
Suzan Omar Elmajali, MsC
Monica Ramirez, DNP
Ashley Reise, MLIS
Kimberli Spencer, DNP
Kaitlyn Tafaro, Nursing Education
Rachel Thompson, DNP
Elizabeth Wolfe, MBA

Brittany Zwijack,

Nursing Education
Alyssa Lehn, Doctoral Nursing Student
Amira Jalaghi, Doctoral Nursing Student
Katie Andrusaitis, Doctoral Nursing Student
Gabriela Martinez, Digital Audience Strategy
Jared Sidman, GTD
Hunter Kahn, Fall 2022
Tor Christian Tjorham, Fall 2022
Elie Alkassouf, Summer 2022
Alexandria Bisher, Summer 2022
Iman Isanovic, Summer 2022
Samantha Lynch Johnson, Summer 2022
Michael Krafft, Summer 2022
Marieta Nedyalkova, Summer 2022
Marcel Putrus, Summer 2022
Sage Sirotkin, Summer 2022
Jon Tibbetts, Summer 2022
Max Gao, Spring 2022
Reed Hancock, Spring 2022
Rachel Fisher, Spring 2022
Anugraha Pal,  Spring 2022
Carlos Mendez-Arias, Spring 2022
Deegan Brady, Fall 2021
Vanderson Cunjuca, Fall 2021
Randie Domek, Fall 2021
Max Gao, Fall 2021
Reed Hancock, Fall 2021
Kyle Johnston, Fall 2021
Mikayla Johnston, Fall 2021
Xingchen Li, Fall 2021
Juan Ramirez, Fall 2021
Brittany Tews, Fall 2021
Ashley Tse, Fall 2021
Fall 2020 & Spring 2021 Software Engineering Capstone
Nicholas Hunter

Eric Magoffin
Tyler Rainboth
Daniella Urteaga-Diaz
Dallas Zinn
Fall 2019 & Spring 2020 Software Engineering Capstone
Curtis Smith

Jess Valdez

Christopher Risser

Catherine Khongsaly

Tony Conrad

Alper Mencek

David Plotzke

Jeremiah Mille
Joshua Paragoso
Tanner Zuran
Spring 2019 Software Engineering Grad Capstone (SolarSPELL Digital Library Rapid Prototype Tool)
Gopika Pai

Maitreyi Thakkar
Rishabh Modi
Sangeetha Swaminathan
Shubham Vyas
Aashita Priya
Spring 2019 Software Engineering Grad Capstone (SolarSPELL Application & Module Integration)
Binbin Yan

Pratik Bartakke
Supriya Ramaswamy lyer
Abhinab Mohanty
Mitali Kulkarni
Saurabh Prakash
Spring 2019 Thunderbird Capstone (MySolarPi)
Brenda Rubio-Sanchez

Isaac Miller
Kylee San Miguel
Nick Shively
Ka Peng Nicole Lei
Omar Alothiam
Ricardo (Ritchie) Reyes
Pavithra Devi Rajkumar, Master's, Software Development
Phuc H Tran, Undergrad, Videography
Matthew Jurenka, Undergrad, Software Development
Lee Chiffelle, Undergrad, Special Projects
Maddie Arnold, Undergrad, Spring 2020 – Fall 2020 – Social Media Communications Aide
Vignesh Mahesh, Grad, Spring 2020 – Electrical Circuit Designer
Jude Schroder, Undergrad, Spring 2020 – Videographer
Sai Cheekatimalla, Grad, Spring 2019 – Metadata Aide
Vasishta Harekal, Grad, Spring 2019 – Web Developer
Tharun Kumar Viralam Sreedar, Grad, Summer 2019 – Metadata Specialist